Laser Beak Man
by Tim Sharp
Welcome to the happy colorful world of Laser Beak Man and artist Tim Sharp.
"I Love A Sunburnt Country – A Land of Sweeping Planes."
Laser Beak Man by Tim Sharp.
Buy Prints Online

Welcome to Laser Beak Man
by Tim Sharp
Welcome to the happy colorful world of Tim Sharp and Laser Beak Man.
Laser Beak Man Man is the colorful superhero created by Australian artist Tim Sharp who has autism (Tim's choice of language) and has won fans from all around the world with his unique sense of humor and happy colorful art. Sell out exhibitions, Tedx Sydney speaker, an animated TV series,  theatre production touring nationally after being developed in New York City, a best selling book about his life, Tim's life is a double shot of happiness.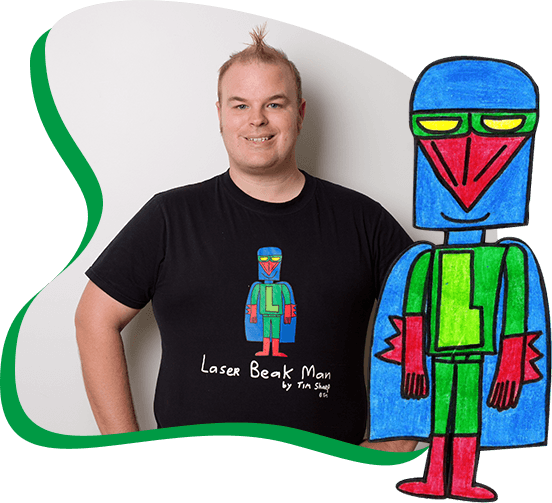 Tim on Australian Story
Watch the story and triumphs of Tim Sharp as screened on Australia's most prestigious and multi awarding documentary programme the ABC's Australian Story.
Ted x Sydney
Watch Tim's TEDx Sydney talk that had a full house at the Concert Hall of the Sydney Opera House on their feet applauding Tim.
Keynote Speaker Showreel
Before you book your event see what we bring to the stage at our keynote speaking appearances.